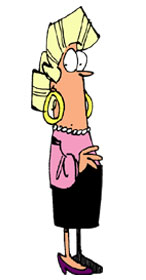 Scroll to the bottom of the page to read the weekend cartoon.




The NEW Madam & Eve collection now available at a good bookstore near you!




Or CLICK HERE to order online directly from our publishers JACANA!



"I am always amazed by the energy and passion displayed by this writing and drawing duo that manages week after week to come up with fresh comedic ideas on which to make their point and build their powerful punch line." – Business Day

Would you like to have Madam & Eve appear in your publication, magazine or newsletter?
Email us HERE for reprint enquiries.
Click HERE to follow Madam & Eve on Twitter!